Hi, I'm Mariann Aalda! You may recognize me from my more than 30 years of acting on a bunch of TV shows with folks like Redd Foxx, Della Reese, Jackee Harry, Larenz Tate, Naya Rivera, Kirstie Ally, Meshach Taylor, John Ritter, Dennis Haysbert, Clifton Davis, Mo'Nique and Ernie Hudson...mostly comedy, with a few major soap opera tragedies thrown in...including two extended stays in mental institutions!! On ABC's Edge of Night & NBC's Sunset Beach. There's lots of video clips on this website...feel free to explore and get your laugh -- and maybe even your cry -- on. I also invite you to join me at the National Black Theatre Festival in Winston-Salem, NC, this summer for more laughs -- and maybe a few tears -- in my new solo show: GETTIN' OLD IS A BITCH...BUT I'M GONNA WRESTLE THAT BITCH TO THE GROUND!!!
Most recently, my alter ego, "Dr. Ginger," has been dispensing her wit and wisdom in New York, Chicago, New Orleans and Los Angeles. Her last visit to Winston-Salem was 10 YEARS AGO!!! And Ginger & I are both glad to be back, with lots of new stories to tell...especially about the quirks and craziness of getting older and still gettin' your groove on! I promise, a good time will be had by all! But don't just take my word of it! Click on the link below to hear what audiences have had to say...
AT THE 2019 NATIONAL BLACK THEATRE FESTIVAL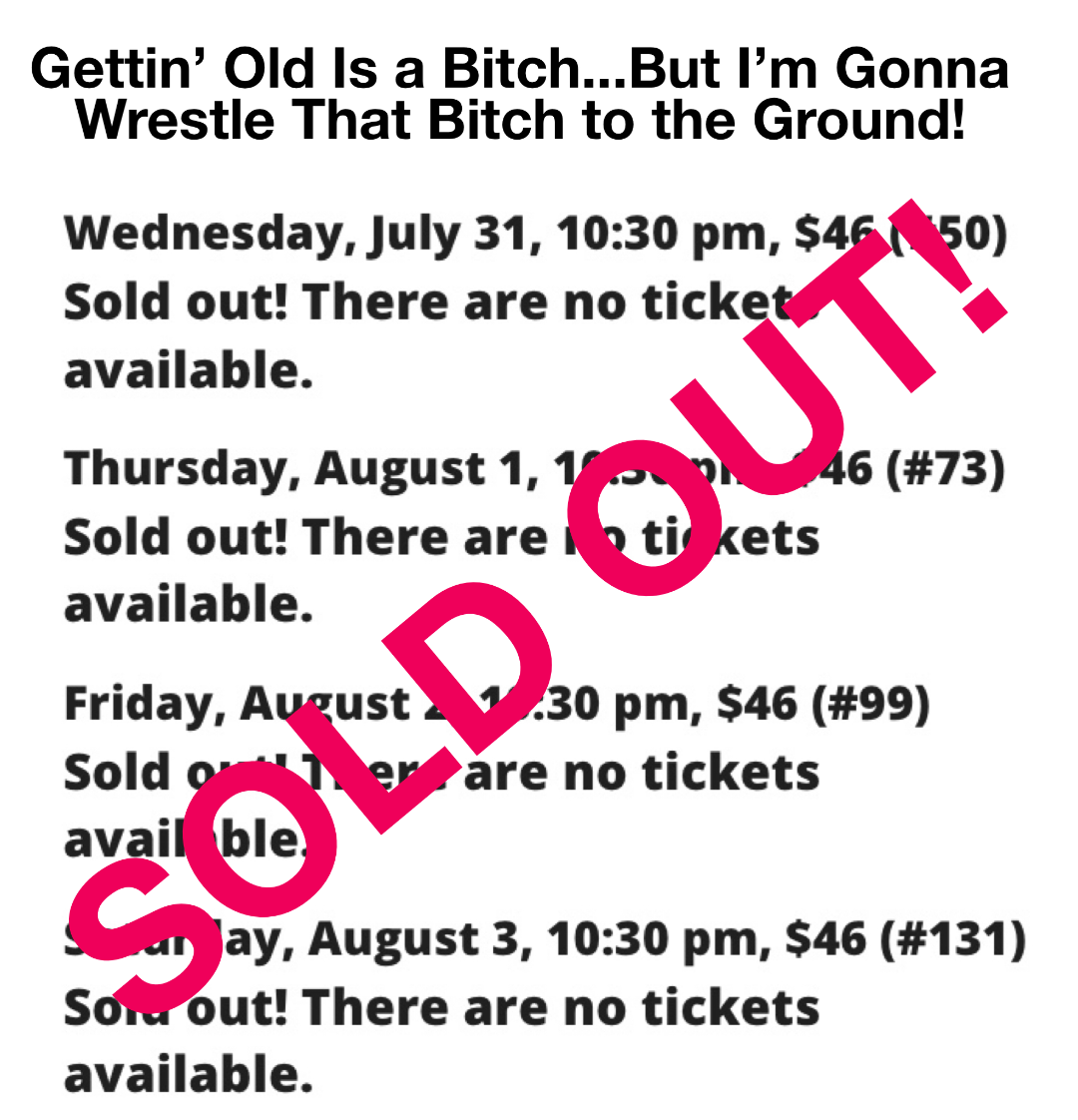 WOW!!! Only 72 hours after tickets went on sale the show was SOLD OUT! So, the stage was reconfigured...additional seats were added...and then we SOLD OUT AGAIN!!! I have been informed that due to fire laws no additional seating can be added. However, stay tuned to find out when "Dr. Ginger" might be coming to a city NEAR YOU! Meanwhile, there's a great selection of other shows with tickets still available. Click on the link below and check them out.
CLICK HERE FOR THE FESTIVAL WEBSITE
* * *
SAVE THE DATE!!! August 25
"Dr. Ginger" will be at...
* * *
SAVE THE DATE! - DEC.12, 2019
For my TEDx Talk on Nullifying Ageism
Click below for more info.
And click below to see what I have to say about Ageism in the WSJ!

"We all know about the difficulties actresses face as they age — but what about ageism in comedy? Nine fabulous female comedians share their stories..."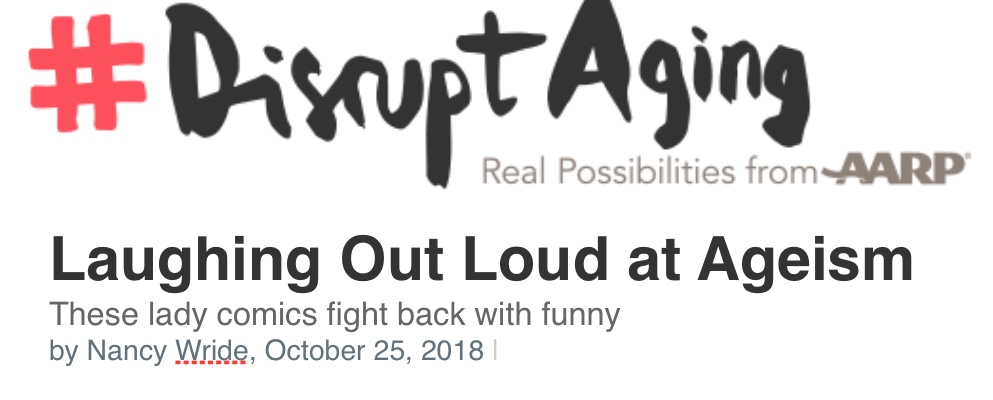 I'm in great company with some of today's funniest female comics "of a certain age," including Sandra Bernhard, Jennifer Coolidge, Marsha Warfield & Judy Gold...and I get the last word! Click on the #DisruptAging billboard above for the full article.
and then...
Click below for my solo profile as an AARP #AgeDisruptor. Because that's what Badasses do...we DISRUPT!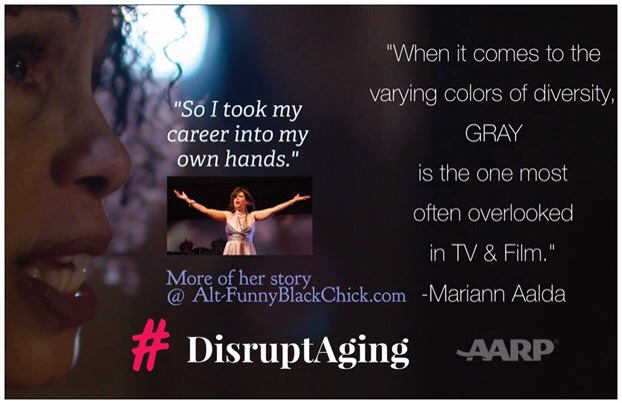 --------
After graduating from Southern Illinois University with concentrations in Theatre & Journalism & NYC's prestigious Negro Ensemble Company theater training program (Laurance Fishburne and Robert Townsend were classmates), I got my show biz start on the gritty streets of New York City doing bawdy sketch comedy and political satire with Off-Centre Theatre on a pull-down stage off the side of a seen-better-days moving van with a baby on my hip...and touring the country with the Boston improv troupe, The Proposition. More than 30 years later, I've maintained my comedy chops, and expanded them into standup and performance art. I've even made fans of Millenials with my improv comedy web series, "TALK TO ME, GINGER!" based on my performance art character "Ginger Peechee-Keane, Adult Sex-Ed Evangelist & Mojo Motivator" from my live shows.
----------
Click on the photos below for a peek into Ginger's World with...
"THE PREACHER & "THE PIMP"
Ginger is now "in session" with the wacky clients she was forced to see as part of her community service for nude sunbathing at Multnomah Falls National Park. These purloined tapes were stolen from her office and are being released online by a stalker until she agrees to go out with him.
CLICK HERE FOR ALL 25 EPISODES!
(totally improvised, btw)
* * *
Mariann's Mission Statement
Comedy or drama, thought-provoking or escapist entertainment...my objective remains the same: creating characters that audiences can identify with and telling a good story. Borrowing from sports parlance, my performance philosophy is: Go deep (emotionally) go long (unafraid to look foolish) or go home. (No sexual innuendo intended)
I've been developing the character of "Ginger" in cabaret, sketch, improv and theater productions since 2005. In 2013, I was selected to workshop my solo show, Occupy Your Vagina! at NYC's Dixon Place, the Tony-Award winning incubator for cutting-edge theater. John Leguizamo, Alan Cumming and BD Wong honed their solo shows there. I went on to bring that show to New Orleans, Chicago and Los Angeles, where it was filmed for DVD. "Ginger" keeps growing and changing as I continue to grow and change. So, come join "Ginger" & me at the 2019 National Black Theatre Festival this summer in "GETTIN' OLD IS A BITCH...BUT I'M GONNA WRESTLE THAT BITCH TO THE GROUND!" And see what we've been up to!!!